License Activation
After enabling the plugin Go to WooFood->Settings and type your License Number(Puchase Code on Codecanyon) and press Save Changes, you can also set the minimum order amount, set the average delivery time or select the automatic delivery time calculation to be enabled to automatically calculate the time based on the product process time.
Create Extra Option Categories
Before creating extra options you should first have created an extra option category to assign the extra options there.
Navigate to WooFood ->Extra Option Categories
In the left side you will see  Add New Extra Option Category . Type the name of the extra option category you want (for example Sauces ) also set the slug (for example sauces again) and press the button create the category.
Enable Ajax(Suggested)
Enable this checkbox is you want to load products on the same on Archive/Category Pages and on  FrontPage.
Create an Extra Option
Navigate to WooFood->Extra Options and press Add Extra Option and in the title type the name(for example Chilly Sauce) of the Extra Option, after that set the extra price for this extra option and select the Extra Option Categories to be assigned :You can also select the Product Categories for this extra option to be visible(or you can manually select the extra option categories to be visible on each product, i will tell you how to do this in the next step).
Note: If you want Extra Option to have a different name on backend and be with other name visible in frontend complete also the Visible as to the name you want to be visible in public. For example . You have 1 variable product (Burger) with two sizes. Normal and Large  and you are charging Chilly Sauce double in Large Burger .Then you have 2 create 2 different Extra Options . One with Title Chilly Sauce for Normal Burger  and set the visible as Chilly Sauce and the 2 Extra Option will have Chilly Sauce for Large as Title and Chilly Sauce as Visbile as. With this configuraton you will be able to recognize the exra options  better in the backend while on the frontend are visible with the same name but different pricing.
Assign Extra Option Categories on Simple Product
Create a Simple Product on WooCommerce ( let's name it for example Crispy Chicken Burger Simple).
After the Regular Price and Sale Price Fields you will see a new MultiSelect Field (This added by WooFood Plugin).
You will see  all the Extra Option Categories( If you want to set multiple extra option categories on the product you can select mulitple by pressing the CTRL button on Windows or the CMD button on MAC, to select them.
Assign Extra Option Categories on Variable Product
Create a Variable Product on WooCommerce(let's name it for example Crispy Chicken Burger Variable)
In attributes i have created a new attribute with name Size for example and added these Options : Regular , XL
See the following example
Now let's go to Variations and select Create Variations from All Attributes and press Go
This will create 2 variations : One for Regular  and one for XL.
Now Expand the variation and you will see a new multi-select field "Select Extra Option Categories" added from WooFood Plugin and select the extra option categories you want to be visible on this variation. Do the same also for all variation.
Note:If for example in the Regular variation you want to show extra option categories but you don't want to show extra option categories on the XL variation, select No Extra Category  on XL.
WooFood Accordion Menu ShortCode (Classic Editor)
If you want to add the woofood accordion menu  with all categories use the following shortcode to any page
[woofood_menu]
WooFood Accordion Menu GutenBerg Block
WooFood now supports Gutenberg Blocks. You can easily select the WooFood Categories Accordion  and select the category you want to insert as accordion or select all categories.
Customize WooFood Theme
Go to your WooFood Customizer by going to Appearance ->Customize.
Go to Site Identity and upload your logo and set your site icon.
You can also change all the colors of the Theme like the following
Header Text Color
Background Color
Menu Bar Background Color
Menu Text Color
Menu Text on Hover Color
Menu Text Active Color
Menu Background Color
Menu Background Hover Color
Menu Background Active Color
Footer Text Color
Footer Background Color
Widget Text Color
Widget Background Color
Button Background Color
Button Text Color
Accordion FrontPage Panel Background Color
Accordion FrontPage Panel Text Color
If you want to use the Theme's default frontpage set the Static Front Page to Your latests posts
WooFood Automatic Order Printing Software  for Windows  & Mac
Now let's setup the automatic order printing on your Windows.
Note: Be sure that you have enabled pretty permalinks on General->Settings on your WordPress settings, otherwise Auto Print Software will not able to communicate with WooFood API
After installing the WooFood Windows Software, on the first open a message will popup to type your License Number(It's your purchase code), the domain name (where you installed the WooFood plugin), the the username and the password . After  typing all of them ...press Save Settings settings....and restart the app for the changes to take effect.
You can change also the labels of the printed order like Order ID , Order Date, Payment Method etc by going to settings on Translation Section and translate them to your language
Also you can check the option to set the order as completed automatically after printed by checking the checkbox AutoComplete Order After Print.
---
Note: Be sure that the time on your computer is correct (Otherwise you will not be able to activate the windows software and connect to your website).
Multistore Plugin
If you have multiple locations of your restaurant you can enable WooFood MultiStore Plugin to be able to accept orders for all of you stores (Each store will be able to see only their own orders).
Upload the plugin enable it.

After Enabling the plugin you will see that 2 more setting pages added under WooFood plugin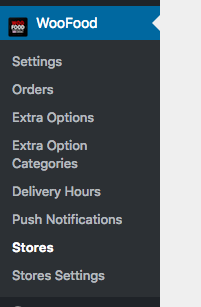 Let's say that you have two stores . First you will need to create to Multistore Users (New WordPress role added by Multistore Plugin), one for each store.
Go to Users -> Add New and create a new user and select as Role MultiStore User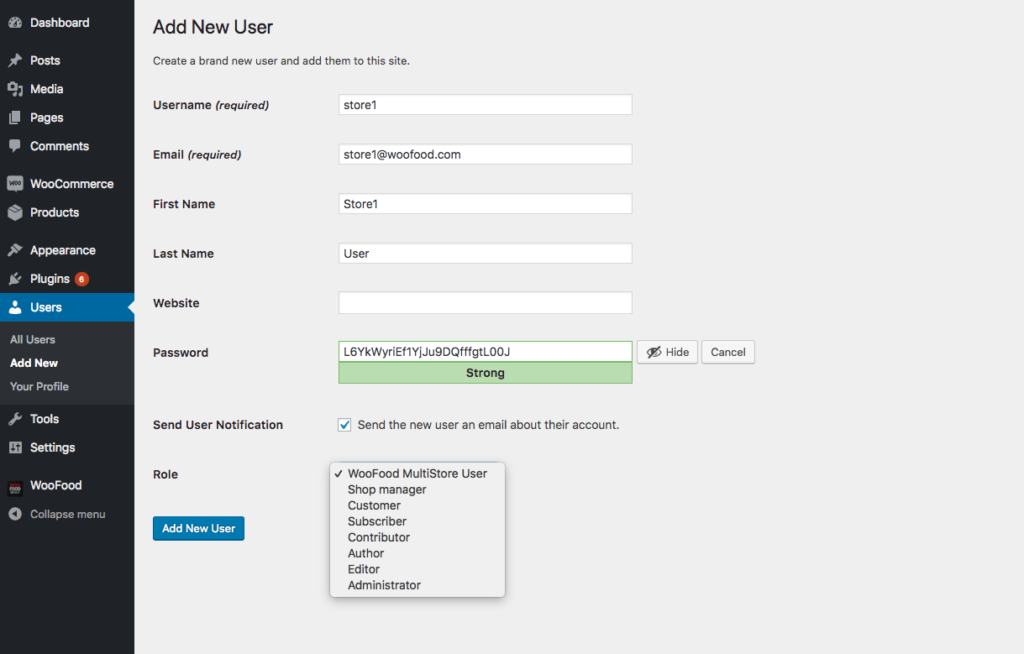 Repeat the above store to create an other user also for the other store and now lets see how to assign the users to each store.
Now go to Stores and and your first Store by pressing Add Store and complete Store Address, Store Email Address , Phone Number and Maximum Distance for Delivery. Extra Store Key is not required for the current version, so leave it empty.
You will see also a select user where  you can select which user will have access to this store . You will need to assign a user to be able also to automatically print the orders using the software.
You are ready with Multistore Configuration.
Each User  will be able to see only their store orders . Use the user logins details to connect the Auto Print App.
Note: Do not connect to the automatic printing app using admin logins or shopmanager logins when you are using multistore. Because you will get all orders from all stores.