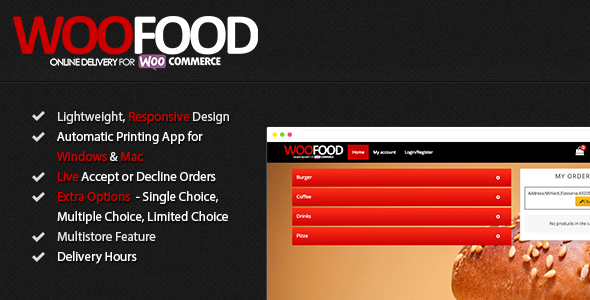 What is WooFood?
WooFood is an all in one solution for your food delivery  business, including a Food Delivery Plugin for WooCommerce, a lightweight and simple Theme and Automatic Order Printing Software for Windows and MAC to create your online food delivery system for your fast food, pizzeria, cafe or restaurant using your WordPress site.
WooFood is not just a restaurant menu plugin for WordPress, is a whole solution including Delivery Hours, Delivery Fees, Pickup option and automatic distance calculation to be able to accept orders only within your delivery area.
If you have multiple locations you can use also the multi-store plugin included to send the orders automatically to the nearest to the client available restaurant .
Features
Maximum Distance to Delivery via Google  Distance Matrix API
Pickup Option
Delivery Fee
Extra Options (Toppings, Extra's)
Multiple Customer Addresses
Automatic Address Completion using Google Maps API
Accept / Decline Orders
MultiStore Feature – For Merchants with multiple restaurant locations
Automatic Send the Order to the Nearest store to the customer(*manually selection is also available)
Automatic Order Printing
Extra Options
Extra Options(like toppings, sauces ,etc...)  on each Product, Variation or to the whole product category (this will save you a lot of time , if you are using the same extra options for multiple products in the same category).
Automatic Order Printing
With Automatic Printing Software for WooCommerce , you will able to  automatic print your restaurant  orders directly  to your thermal or to an  other printer using Windows or Mac.
The best part of WooFood is the Automatic Order Printing Software included  working for both Windows and MAC operating systems will be responsible for printing the customer orders automatically to your thermal printer.
Accept / Decline Orders in Live Mode
With Accept / Decline feature of WooFood you can enable the option to accepting orders in real-time. While  the customer is waiting for his order to get accepted you will be able to give me an approximate delivery time in minutes based on your restaurant traffic.
Pickup Option
Customers will be able to select if they want to pickup their order from the store. The address of the store will appear also on checkout page while selecting option to pickup.
Delivery Fee
Use Delivery Fee for your orders directly from WooFood or use the default WooCommerce > Shipping.
Automatic Address Completion (AutoComplete)
Address Autocompleted using Google Places API on Availability Checker , Checkout Form and Sign Up form.
MultiStore Feature
Having more than one locations of your restaurant? Multistore Feature will automatically send the order to the nearest to the client store.
Maximum Distance for Delivery
Set a maximum distance you are delivering to and accept orders only from a certain area.